Thank you for your interest in exhibiting at the CASQA 2023 Conference to be held September 11-13 at Paradise Point in San Diego.
Note: This page will be updated for the 2024 conference in the Spring of 2024.
The CASQA conference provides exhibitors with a unique opportunity over three days to highlight the types of goods and services sought by over 1000 stormwater professionals throughout California, who understand the critical challenges and needs of stormwater programs, including local, state, and federal decision makers, stormwater program coordinators, contractors, consultants, engineers, lawyers, scientists, and planners. Their diverse set of needs includes consulting and professional services, public education and outreach, legal services, stormwater capture, and pollution prevention and treatment best management practices. In addition, networking opportunities are provided throughout the conference to further identify needs and explore innovative ideas, including the Exhibitor Reception on Tuesday evening.
---
Deadline to Register For An Exhibit Space
Friday August 11 Pacific
All exhibit spaces are available on a first come, first served basis and sell out quickly; early registration is strongly recommended!
Exhibit Space Details
Exhibit Hall Accessibility
What's Included: All Categories
Additional Inclusions by Category
Purchase Details
Payment and Conditions
Exhibitor Guide and Contract for Space
Disclaimer and Acknowledgement
Exhibitor Kit
CASQA's Policy and Procedures for Advertising and Sponsorship
Steps to Register – SOLD OUT
Review the Exhibit Space Details and Purchase Details above, and the Exhibit Hall map below. You will be able to view the available exhibit spaces during the online registration process (one space only per exhibitor).
CASQA Members: Group/organization CASQA memberships receive a discount on an exhibit space purchase (does not apply to individual 1-person memberships). To receive the member discount you must log in to your CASQA account before clicking the Purchase an Exhibit Space button.
Additional Booth Workers: When registering for your exhibit space you will list the names of and pay for any additional booth workers (Additional Exhibitor Pass) that are not included in your exhibit space category.
Advertising opportunities are available for purchase when registering.
Fees
CATEGORY
(spaces may not be combined)
MEMBER
(group only)
NON-MEMBER
SUPER PREMIUM EXHIBIT SPACE
Includes (1) Full Conference Pass
$3,575
$4,025
PREMIUM EXHIBIT SPACE
Includes (1) Full Conference Pass
$2,575
$3,025
REGULAR EXHIBIT SPACE
Includes (1) Full Conference Pass
$2,350
$2,800
ADDITIONAL EXHIBITOR PASS
Restrictions apply:
– For Exhibit Hall admission and lunch (Mon-Wed) only
– Does not include the Technical Program sessions
– Does not include the Networking Event
$600
$600
NETWORKING EVENT TICKET (Monday Evening)
Tickets for attendee guests or as an add-on to a 1-Day pass
Deadline: Sep 5 at 5pm; tickets are not available at the door
Location: Vacation Isle Park
Dinner; cash bar
$130 ends 7/31
$180 as of 8/1
$130 ends 7/31
$180 as of 8/1
Exhibit Hall Map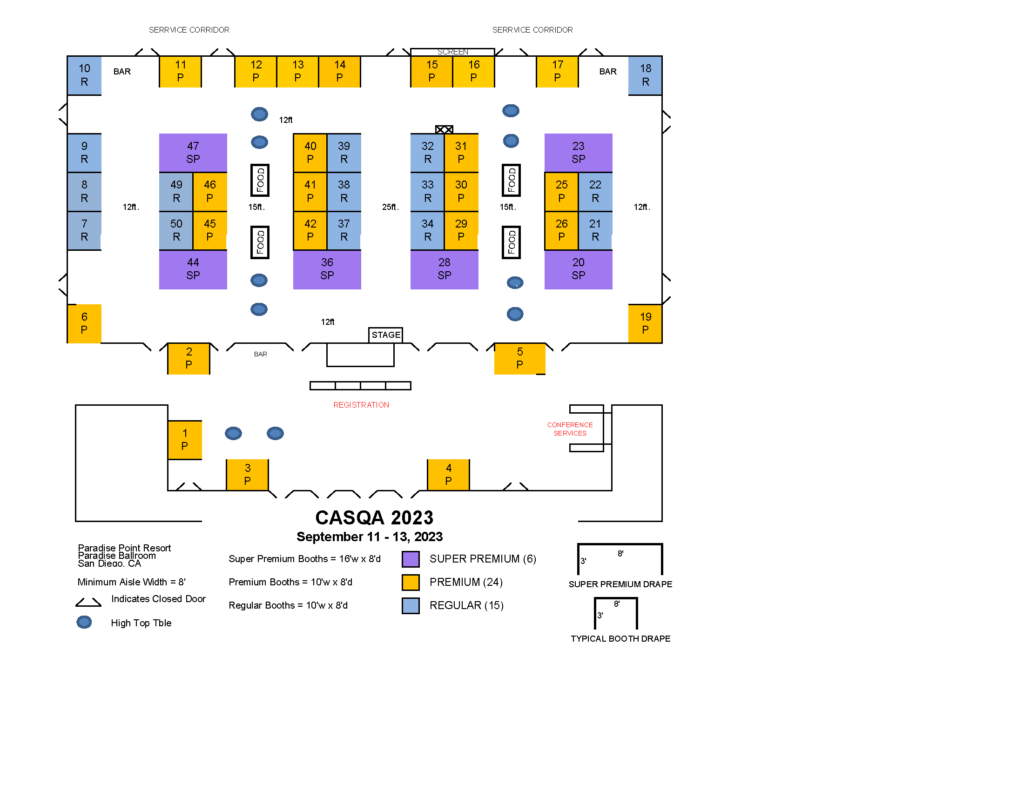 ALERT: Important Notification From CASQA
CASQA has been made aware of a service provider with the name Exhibitors Housing Management, that has contacted some of our Annual Conference exhibitors to offer hotel reservation services. This organization does not represent CASQA, nor has CASQA authorized them to use our name, logo, or trademark on information they may send to exhibitors or other registrants. To book your hotel room please use our special link to the CASQA Conference Attendee Block as provided on our Hotel & Travel page. Reservations made through any other housing services company cannot be guaranteed by CASQA and could result in additional charges, incorrect hotel placement, or inflated room rates for CASQA conference participants.